Anambra Lawyers Reveal What Will Happen To IPOB If They Disrupt Guber Election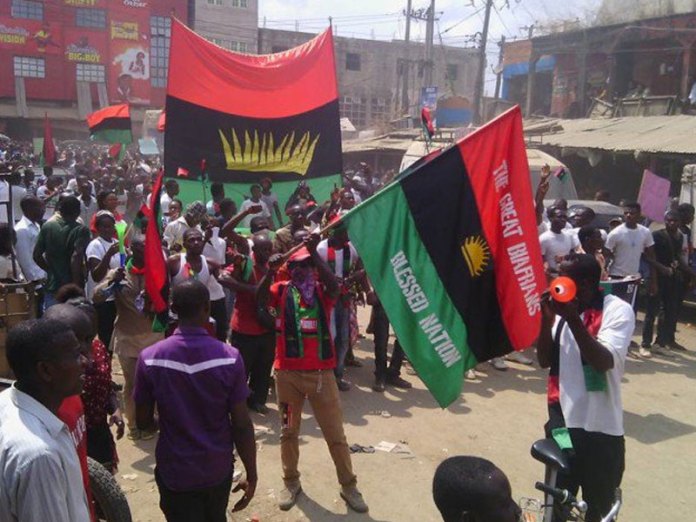 Anambra Lawyers Reveal What Will Happen To IPOB If They Disrupt Guber Election


Anambra State Indigenous Lawyers Forum ( ASILF) have revealed what would happen if the Indigenous People Of Biafra(IPOB) interferes with the gubernatorial election set to hold on November 6 in Anambra.
Joe Nwokedi, the president of the forum said in a statement made in an emergency press conference that there must be a peaceful election in Anambra whether IPOB likes it or not.
He added that the group must not try to disrupt the election as this will not be healthy for their public image and might lead to a situation where they are declared as a terrorist group.
Nwokedi also stated that some of IPOB demands were legitimate especially the marginalization of the South-East and the unruly way the Ndigbo youths were being treated, but their fight for these things would be going down the drain if they were tagged a terrorist group.
The publicity secretary of the forum, Anene Nwadukwe also condemned the threat of the Secretary-General of the federation, Abubakar Malami, to declare a state of emergency in Anambra.
He added that the threat revealed the level of hatred Malami had for the Igbos.
Nwadukwe also pointed out that according to section 305 of the constitution Anambra had not gotten to the stage where a state of emergency should be declared.
Malizu Iwodoh added that an election must occur in Anambra to avoid a constitutional crisis and implored IPOB to allow them peacefully elect the next leader of the state.